As an online business owner, the last thing you would want to do is request Google webmasters to remove penalties. While you must have a dedicated SEO team in place to ensure high rankings on SERPs, it is extremely important that you are privy to the practices that can land you and your website in trouble with major setbacks to the reputation you might have built over the years.
Google keeps a hawk's eye out for unnatural links or link schemes, so one needs to be on one's toes to check out the low-quality or spammy links linking to or from your site.
Decoding unnatural/bad links
Before we get to the toxic links, let's delve into the right or natural way of ranking on SERPs. The natural or organic way to get your site to rank is by churning out original content that adds value to the life of the readers, an experiential perspective, and sooner or later, people will be linking back to such relevant pieces of content. These are referred to as natural backlinks and are considered organic ways to rank well on SERPs.
However, not everyone wants to wait that long or invest that kind of effort in creating relevant content, so they resort to less-than-ideal ways. You guessed it right; we are indeed talking about getting into link schemes and other toxic, spammy link-building methods. Let's delve deeper into the concept of toxic links.
In layman's terms, if a link that goes out from your site or is redirected to your site comes from a piece of content or a source that isn't relevant to the kind of services and products you offer or offers zilch value to the readers, falls under the purview off unnatural, toxic or bad links.
Google looks down upon such practices and penalizes those caught under the radar primarily because of the following reasons;
The integrity of the SERP is at stake because such endeavors pretend to offer value when in reality, it's a mere mirage.
It tricks Google into thinking that your website has a high Domain Authority (DA) when that isn't truly the case.
It puts those websites at a disadvantage who are not into such black hat SEO practices, so not a very leveled play field!
Ways to Avoid a Google Penalty.
Here's how you can avoid getting into trouble with the Google webmasters;
While crafting your content strategy, refrain from using too many keyword-rich anchor texts.
If you post sponsored content on your website, please remember to embed "nofollow" or sponsored attributes, for instance, "rel="sponsored". If it's the other way around, please request the site owners to affix the "re=sponsored" attribute.
If nothing works, use the disavow tool, albeit carefully. Prepare a .txt disavow file and send it to Google.
Conduct regular backlink audits.
To regulate user-generated spam, regulate comment posting on your content platforms by asking them to sign up first.
Examples of Unnatural Links & How To Fix Them
1. Sponsored or paid Links
These are known to be responsible for 53% of the penalties incurred on the basis of a study conducted by Semrush on 830+ backlink profiles. The web pages that were served a penalty were found to reflect sponsor signals in conflation with keyword-rich anchor texts. For instance, phrases like:
Advertorial content
This article was sponsored by
Advertorial post on behalf of
This information was provided by
These don't necessarily be featured next to the link. Here's how to fix the paid links dilemma,
Make wise use of Google's recent attributes, namely the Sponsored and the UGC (User Generated Content) attributes, in addition to the pre-existing Nofollow attribute. This lets the web crawlers know that the page is not to be used for the purpose of Page Rank and makes the intent clear.
Refrain from buying or selling links, especially on unrelated platforms that add no value to the user experience.
If you are not able to get in touch with a website administrator to add the requisite attributes, you may proceed to disavow them.
2. Using Exact Match Keywords In Guest Posting
These methods are also responsible for contributing to a solid 45% case frequency in terms of penalties incurred. As a writer penning out quality content for a living, my editor specifically pointed out the need for writing for humans and not from the SEO perspective. Wondering which aspect she pointed out to?
Well, it was one that slipped from my attention and you might be oblivious to it to! Exact match keywords as anchor text; yes that risky endeavor can get one a penalty from Google and make things appear salesy, and we don't want that..
Using the same keyword as an achor text that one is targeting can be a cardinal sin and one's Achilles heel, if not deployed properly. For instance, if you write a blog titled "best sofa sleepers to invest in" when the keyword you are targeting is indeed best sofa sleepers or sofa sleepers!
An overuse or abuse of such exact match keywords can give a spammy and unnatural look and feel to your websites that will attract penalties. It makes sense to experiment with generic, partial or branded anchor texts, instead of relying on exact match keywords for linking.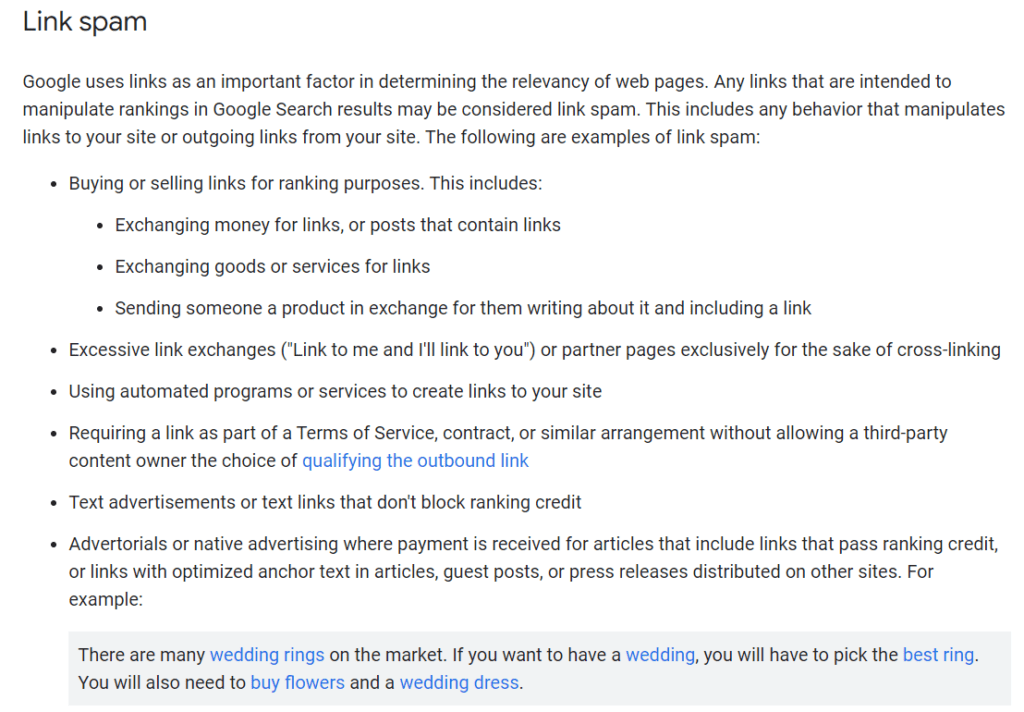 3. Link Networks & Private Blog Networks (PBNs)
While these are set up mainly to "boost" SERP rankings of the targetted "money site", they actually have quite the contrary effect in the eyes of the webmasters. With a case frequency of 27% of attracting penalties, they are created using free blog services and standard templates capitalizing on exact match keyword anchor texts or limited variations of the same with an intent to draw traffic to the targetted site. Here the intent is clear, to supposedly boost traffic by employing spammy means and offering zero value to the readers.
The only effective way to avoid a Google penalty on these accounts is to entirely obliterate such links or disavow them.
In addition to the above mentioned examples of unnatural or spammy link building methods, there are a plethora of other means as well such as user generated spam (16%), link listings and web directories (16%), pure spam (14%), affiliate links and direct ads (10%), business directories and bookmarking sites (case frequency 10%), widget links, hidden links, etc.
Summary
Indulging in black hat SEO techniques or spammy methods to get those sneaky redirects will attract the wrong kind of attention from the webmasters. Conducting a regular and detailed analysis of your backlinks and refraining from linking to or from sites with poor authority scores can help you clean up your image and ultimately your SERP rankings. If you'd rather have experts look into all your SEO audits and other marketing requirements, Mavlers is the pit stop you need to hit!