Did you know that over 73 million websites on the world wide web are built on a CMS? Nearly three-fourths of online websites run with a CMS. Although WordPress dominates the whole market, the influx of CMS options is only increasing every year. There are more than 80 CMS platforms in the market, available for a price or free, that you can choose from.
Like you would do thorough research before finding a place and building your home in the real world, it is necessary to do the same while choosing a CMS for your website.
In this article, we will walk you through the different factors you have to consider while choosing a CMS that is right for your business!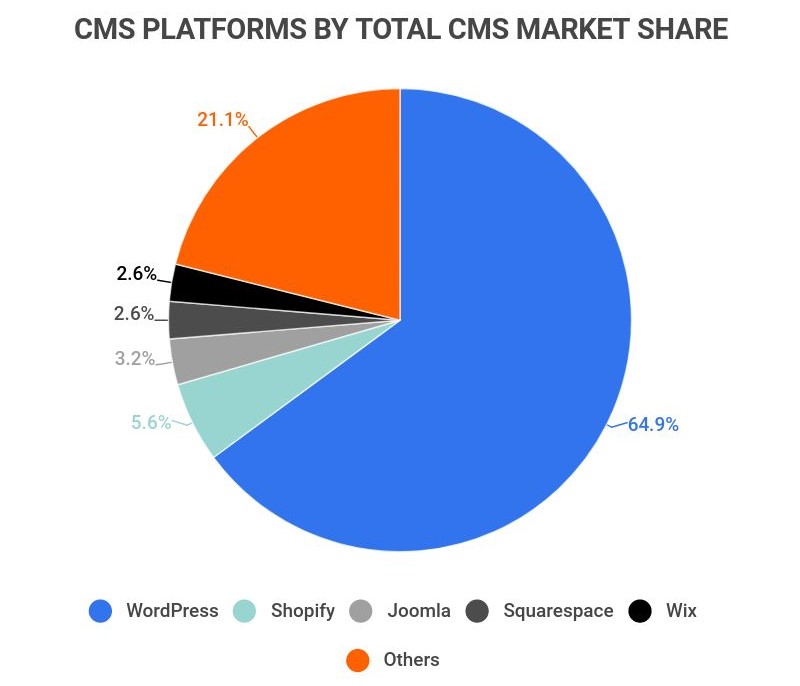 1. Ease of Use / Functionality
Ascertaining if your CMS has a WYSIWYG (What You See Is What You Get), interface is an important factor to consider before choosing one. Most content management systems either have a drag-and-drop or select to see a live preview interface. These powerful functionalities make your website development simple and easy to learn. Also, a CMS like WordPress comes with built-in themes, which makes the process a cakewalk.
2. Techstack
Next up on the list is understanding the technologies that your web development team is skilled at. Getting a CMS in a technology that is completely alien to your team is only going to make things harder! For instance, if your team is already working with a Microsoft Stack (.Net), finding a CMS that uses .Net is the best way to go. Also, keep in mind the integration of your CMS with your already existing datasets.
3. Integrations
Understanding if your CMS will accommodate integrating other software that helps run your business is another important criterion you should keep on your checklist when choosing a CMS. For example, if you plan to add a CRM to your website management, you must first check if your CMS supports the software. Some CMS platforms are hardcoded with strict layouts, making integration a hard nut to crack. You can also take advantage of the plug-ins available on your CMS platform.
4. Customization
What is a website if you can customize it to suit your business goals and offerings? As your business requirements keep evolving, your needs from a CMS also keep changing. If your CMS doesn't allow for customization, you will end up withholding the things you want to do on your website and also have unwanted features and plug-ins that you cannot get rid of. Ensuring your CMS is flexible and customizable helps keep your website less bulky.
5. Plug-ins
Plug-ins play a key role in creating those additional features that make your website stand apart from the competition. Plug-ins come as a savior to not-so-techie creators, who can simply install the plug-in of their choice to enjoy additional features and better functionality. Ensuring that your CMS allows you to add plug-ins is another important factor to keep in mind, even if you don't plan on adding them now. While installing Plug-ins, bear in mind that it doesn't slow down or disturb the overall experience of your site.
6. SEO Features
According to the State of Content Marketing 2022 Global Report by SemRush, 46% of businesses prioritize SEO for their content success next to content quality topping the list. Your content system should be able to work seamlessly with the SEO plug-in you choose. From being able to create an SEO-friendly URL to supporting ALT image tags, your CMS should be able to achieve SEO best practices without much of an intervention.
7. Price
Any business decision comes with a cost. Understanding the budget involved will clear up the air for considering additional features like freedom of customization, better technology, and more. You can get CMS licenses as expensive as $40K or for free. By estimating the CMS budget, you can rule out the ones that don't fall in your price bracket.
8. Open Vs Closed Source Systems
In an Open-source system, the responsibility of your source code is fully yours; however, it will be available for public use. If you are looking to create a highly secure website choosing open-source CMS systems can be tricky. On the other hand, in a closed-source system, the source code is your vendor's responsibility. You will get round-the-clock support if you are facing issues.
Are you willing to trade private access to your source code?
Are you equipped to take full responsibility for your code?
Do you want the vendor to handle the rough work?
These are the questions you want to run through your mind before deciding on whether you want an open-source or closed-source Content Management System.
9. Implementation Speed
Implementation speed has a direct correlation to the cost of website development. The longer it takes to create your website with your content platform, the bigger the cost. Choosing a CMS that uses the technology and language that your team is already familiar with not only shortens the learning curve for them but also reduces the time to develop.
10. Support & Maintenance
Before we dive into the technicalities of website requirements, let's understand if the CMS you want to choose has ongoing support and maintenance. Most open-source platforms do not offer dedicated support. This means you need to have a dedicated development team to help you with critical situations and the overall maintenance of the website. On the other hand, you will have access to a direct line of support in a closed-source CMS platform. Understanding the support and maintenance requirements of your website helps in cutting costs in the long run.
11. Website Requirements
The last but most important factor in this list is aligning your business requirements from the website to the capabilities of the CMS. For example, let's delve into the following questions;
Does my CMS need a technical team for editing?
Can I edit specific regions of the site?
Can I stage my site before going live?
Can I upload videos, high-resolution images, and more?
Can I integrate with another application? and many such questions.
Technical capabilities play a deciding role in choosing your CMS.
Bonus Tip!
Understanding the natural orientation of the popular CMS platforms available in the market helps in confidently choosing the platforms that best suit your business.
For instance, WordPress is often the go-to CMS for bloggers and publishing sites, while CraftCMS is the top pick among eCommerce businesses.
Wrapping Up
It can be a nerve-wracking task to choose the right CMS for your website. However, the CMS you choose for your site directly impacts its efficiency. Don't forget to swim through user reviews, success stories, and testimonials of the platforms before you choose. If you are still not sure, you can always take advantage of the free-trial period!
Do you like this post? Do Share it!