Are you getting your HubSpot website ready for launch? Or are you planning to redesign your website? Or are you migrating your website to HubSpot? Before you jump into action for any of these, let's look into some numbers to understand why you need SEO.
According to InternetLiveStats, an estimated 3.5 billion searches happen every day just on Google. This makes ranking on top of the search uncompromisable factor for business performance.
68% of all online experiences begin with a Search.
Hence, a thorough SEO audit is an absolute must! At first, an SEO audit can look like a complex process, especially when you don't have a plan or a checklist. The free HubSpot kit on "How to run an SEO audit?" simplifies everything. You will find everything you need to run a successful SEO Audit, from checklists to tools. Before we go into the details, let's understand why you need an SEO audit and what you get by performing one before your site goes live.
Why do you need an SEO Audit?
SEO audit is the examination of the various on-page and off-page elements of a website to determine whether or not they are easily crawlable and rankable by SERPs. Understanding how each aspect of your website performs with respect to SEO will help identify critical areas of improvement, redundancies, and future on-page and off-page requirements and map your entire website to rank on top of SERPs. An SEO audit for your HubSpot site will do the following:
Identify and improve areas of the website that need to be optimized for better ranking on search engines.
Find new SEO audit opportunities and take advantage of the same.
Give you a chance to audit your on-page content quality and content needs, identify redundant or underperforming content, and update them accordingly.
You will also be able to analyze the site architecture, check if the internal links are crawlable, and check for 404 and 301 redirects.
What are the benefits of SEO audits?
Now that you know why an SEO audit for your HubSpot website is essential, let's delve into the benefits of an audit.
Data-driven insights: From page-load speed to bounce rate, SEO audit provides you with analytical data with which you can make the right decisions to improve your website's performance.
Repurposing: One of the most significant advantages of an SEO audit is identifying areas that can be repurposed to boost site performance, especially content.
Identify best-performing content: SEO insights like CTR, impressions, bounce rate, etc., help you understand which content types and pages perform well on SERPs. You can leverage this for content repurposing or promotion.
Audience Analysis: Another key benefit is that you can understand the different demographics of your audience, their taste, needs, behavior, and more.
HubSpot Website Grader
Having understood the different goals and benefits of an SEO audit, let's dive into the different ways to do an SEO audit on your HubSpot website.
The very first step is running your website through HubSpot's Website Grader. This tool gives us a general overview of your site's performance and helps you ascertain which areas you need to focus more on in your audit. After identifying your website's strengths and criticalities, you can dive into one or more of the following tools and templates for an effective SEO audit.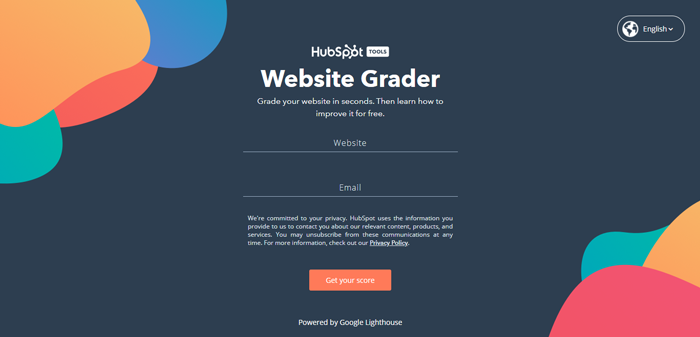 The SEO Audit Checklist
The HubSpot SEO audit checklist is a comprehensive spreadsheet with a checklist of more than 60+ website elements to look for for a successful SEO audit.
The list is spread across categories with questions under each to check if your website is fully optimized. You can assess your website's crawlability, rankability, on-page elements, link juice flow, status codes, technique, scripts and coding, and internationalization; the questions under each of these categories help you determine important SEO factors like:
Is every crawlable page of your website added to the sitemap?
How is your website ranking on SERPs?
Do H1/H2/H3 headings contain the right keywords?
Do all pages have meta-description, alt attributes, and SEO-friendly URLs?
Are all inbound and outbound links working? Does the "link juice" flow seamlessly across the website?
Is your website optimized, both on-page and off-page, for better ranking on SERPs? And more.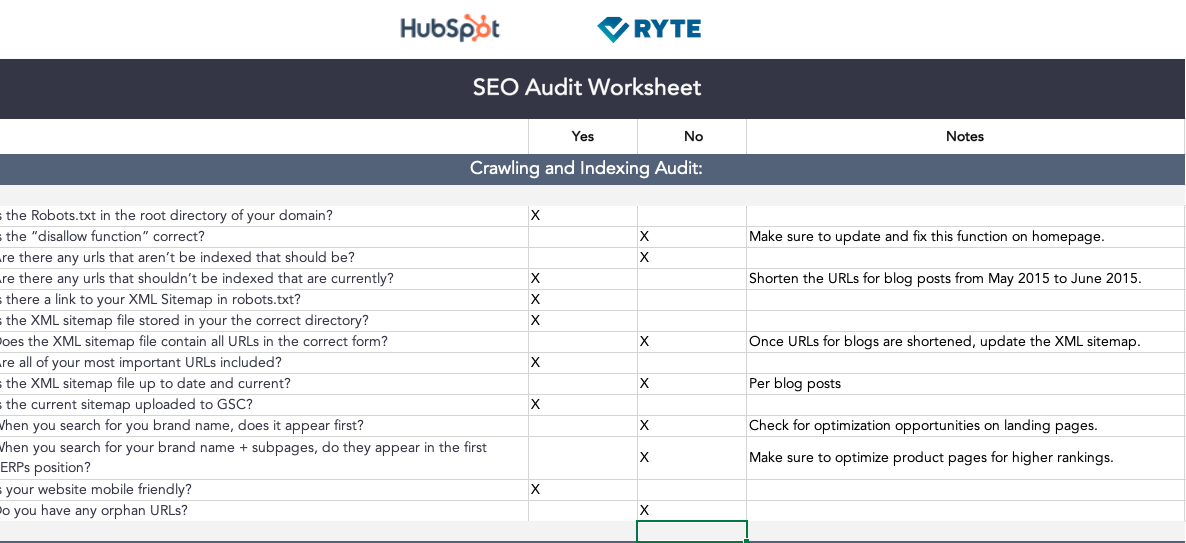 This checklist allows you to audit if various aspects of your website are optimized in the form of simple yes/no questions. You also have the provision of adding notes, where you can jot down ideas for improvement. You can assess the different issues that affect the performance of your website through this spreadsheet. While the spreadsheet covers every aspect of a website SEO audit, you can always customize the checklist according to your custom needs.
HubSpot On-Page SEO Template
Next up in this interesting bundle is the On-Page SEO template that helps you audit your website page-wise for on-page ranking factors. With this template, you can go about a structured approach of looking for various factors like URL length & readability, canonical tags, heading tags, meta-descriptions, keywords, images, alt txt, internal and external links, and mobile output. Every factor you will be auditing on the page comes with a brief explanation of what you should be looking for. As everything in this spreadsheet is self-explanatory, you don't need to be an SEO expert to perform an on-page SEO audit when you are using the HubSpot template.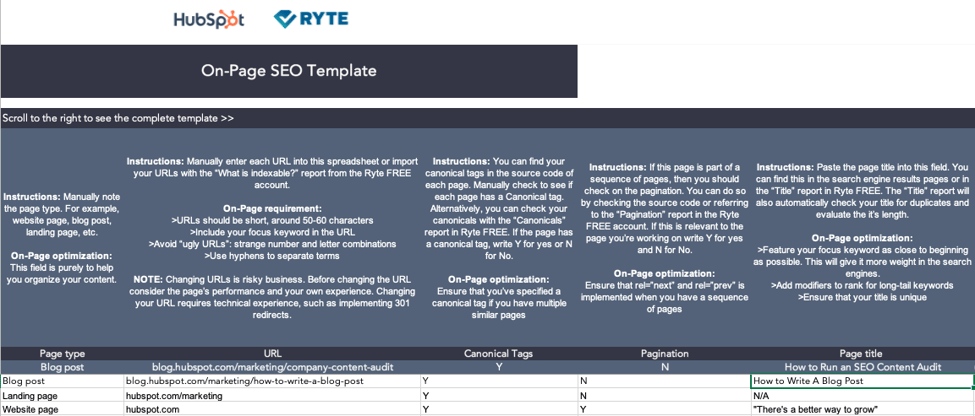 HubSpot's SEO Audit Free Guide
The third offering in the HubSpot SEO Audit free kit is the step-by-step guide on how to run an SEO audit. This free ebook elaborates a 9-step process for successfully conducting an SEO audit for your HubSpot website. From identifying indexing problems and checking on-page SEO elements to evaluating, troubleshooting, and optimizing the site architecture, internal links, and code, this ebook is a guide to understanding everything you need before running an SEO audit.
The ebook also introduces us to HubSpot's favorite SEO tool Ryte. You can either run your audit with pen, notepad, monitor, and checklists or get Ryte to do everything for you and understand your site's performance from its insights.
HubSpot's Favorite SEO Tool Ryte
Ryte Platform 360° is the preferred HubSpot SEO tool that allows you to use its full range accessibility for free. Run an end-to-end audit of your website with Ryte. The tool categorizes every issue found on your site in the order of criticality, and you can start correcting them with Ryte's automated recommendations. As you start rectifying every highlighted issue, you can see your website score improve on the tool dashboard. Ryte's powerful crawler has the potential to dig deeper and provide content-related insights such as broken content, slow pages, and content quality issues.
The best part is, along with the amazing user-friendliness of this tool, you will also get a dedicated customer service manager who will help you with setting-up Ryte for your website through training and timely support. Ryte is the fastest, zero-cost way to run a website SEO audit. It's not only HubSpot's favorite SEO tool but ours too!
Real-Time Site Monitoring for Search Engine Optimization
Lastly, you can do real-time monitoring of your site's SEO performance by linking it to any website audit tool. Another free tool similar to Ryte that you can take advantage of for an SEO audit is Google Analytics. There are also high-performing tools like SEMrush, Casted, Screaming Frog, WooRank, and more that will crawl and offer insights about your site for a cost. Consider the following when doing a real-time SEO audit for your HubSpot site:
Ascertain your goals for the website – Do you want to generate more sales? Create more brand awareness? Retain brand loyalty among customers? Aligning your business goals with your audit will make it more efficient and cost-saving.

Gather everything that needs to be audited – Take a list of the pages, off-page SEO elements, blog posts, multimedia, product descriptions, etc. If you have a small website, that's when HubSpot's Checklists and Templates come in handy. For a larger website, you can integrate it with a powerful crawler to do the job for you.

Post-audit categorization – After an SEO audit, categorize the results and insights; address each issue in the order of urgency. This provides the initial boost for SEO easily.

Make data your friend – Assess data from your SEO audit from a 360-degree angle. Think about all aspects and outside the box. Approaching analytics data critically will broaden your SEO approach.

Create action items– With the help of your insights, create a list of actionables you want to focus on, create a priority timeline, schedule and measure updates, and check for redundancies and correct them.

Choose the right tool – Finally, if you have the right tool in place, everything can be executed effortlessly. So, spend time and budget on finding the tool that aligns best with your goals. In other words, check if the insights from your SEO tool are relevant to your business.
Wrapping up!
To summarize, optimizing your website for SEO is more than just ranking on the top of SERPs. It's about creating and maintaining a robust online presence through periodic content reviews, repurposing, and promoting. It's not a "one-time and done" kind of process. With data, you will achieve measurable results on SEO performance over time. So, stay on top of your HubSpot site performance with regular SEO audits, and if you need expert help with SEO audit for your HubSpot website, our team of experts has got your back!