Ever seen those sponsored ads that merge seamlessly with your preferred mode of content consumption, are relevant to your current needs, and end up offering great value? They go by the name of native advertising, my friend! And also did I mention, they don't appear particularly salesy!
Well, that should explain the data science webinars popping up in your YouTube feed or before you smash play on your daily mix playlist. For PPC marketers, running native ads is the next best thing to regular banner ads (because, hey! That's so 2022!)
In today's blog, we will delve into the basics of native advertising and some of the best practices that marketers can deploy to realize quality views and, ultimately, better ROIs. Hit the play button now because you wouldn't want to skip this if you are an eager-to-learn, always-on-the-edge PPC marketer!
Decoding The Fundamentals of Native Advertising
So before we get to the traditional definition of native ads, let's try to understand some of their defining characteristics and examples; this will help you read between the lines when we get to the classic definition of the phrase that is the present and future of advertising.
The first sign of a native ad would be that you wouldn't be able to easily tell that it is an ad simply because it would seamlessly merge with the form and feel of the platform you are browsing, hence the word "native."
They might come with disclaimers such as "sponsored" or "branded" content which might be slightly vague to configure, but they are allowed in the US as long as they are relevant, offer value to the demographics of the audience, and are tailored to match the feel and form of the platform.
They also seem less invasive, and therefore less salesy, by appearing as "recommended material" beneath the page's content.
An instance of a native ad would be that cleverly synced article that appears on your favorite news portal or Facebook feed; it is non-disruptive, adds value, and is in tandem with the editorial flow of the platform.
To quote the definition of native ads as per the Native Advertising Institute, "It's a form of paid advertising that matches the form, feel, and function of the content media and platform upon which it appears."
Now that we are familiar with the concept let's delve into the kinds of native advertising one can hope to encounter;
In feed placements
Paid search
Recommendation widgets
Custom ads
Promoted listings
In ads with native elements
Factually speaking, native ads have been found to garner 53% enhanced quality views with an 18% increase in purchase intent. Let's look at the following attempt at native advertising between Netflix and Wall Street Journal to promote the former's well-loved series, "Narcos." The amalgamation of knowledge and value provided in terms of the interactive portal that helps one decode the history of the international drug trade makes it a stellar example of native advertising.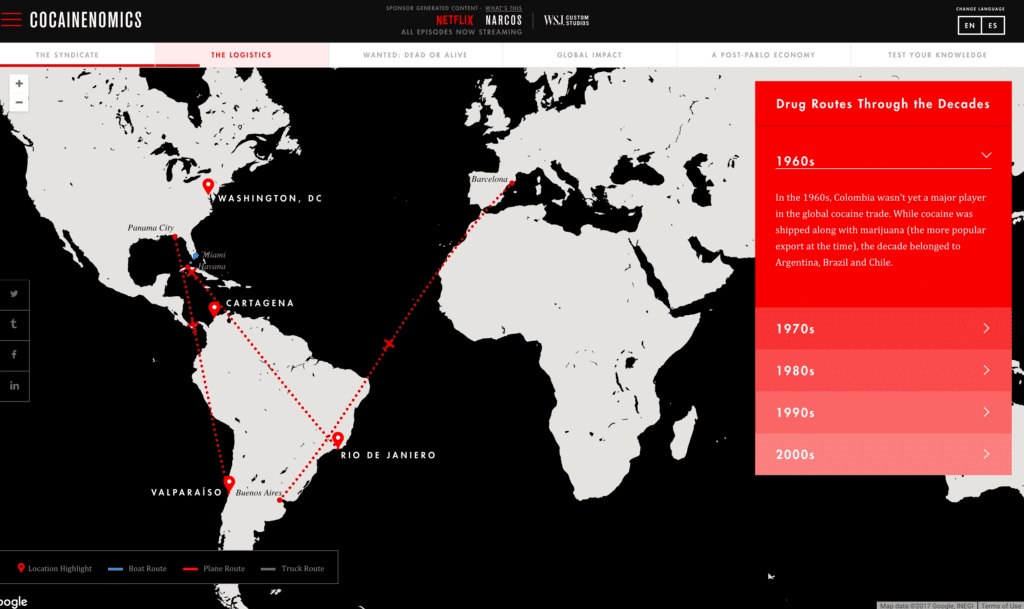 Another example is from the supremely popular social media platform, Instagram! Check out the seamless ad below;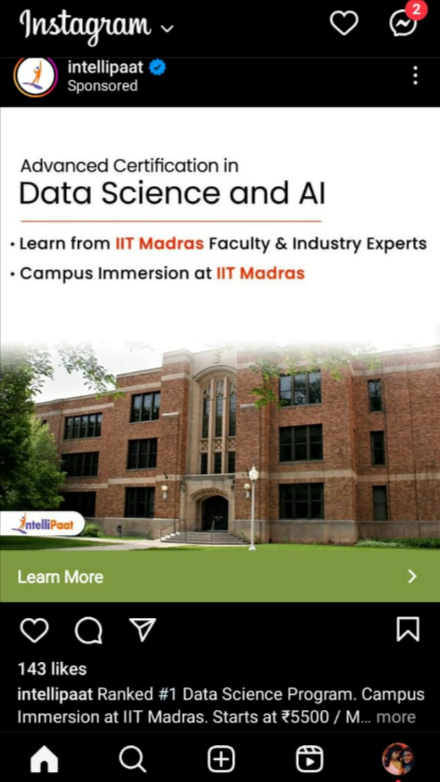 Best Practices To Embrace in Your Native Advertising Strategy Now!
1. Be privy to and understand the demographics of your consumers' age group
If you try to reel in Gen Z kids with tactics that work for millennials, you might never see your brand's boat sailing smoothly!
Once you are clear with your brand's target audience age groups, you will be able to engineer the right form of native ads on platforms that are most frequented by them.
Here are some pointers: brand loyalty, and quality work best for Baby Boomers, while millennials are known to have a soft spot for personalization and convenience.
Gen Zs have a marked inclination toward consuming video-based content. So video-based native advertising would work best for them.
Strategic advertising can help convert curious looky-loos into loyal customers.
2. Always aim to offer value
The "what's in it for me?" approach never fails to attract and convert prospective consumers. People always look for value in the content they consume, so if you offer that and more with nuggets of valuable solutions, information, or even a few healthy laughs, your ads are good to go.
The salesy ads that are neither relevant nor organically placed just won't work in today's value-centric world. Alleviate pain points while helping them identify situations that can be made better with your creative solutions. Win trust, build connections, and before you know it, you wouldn't have to worry about your cash registers chiming ceaselessly!
3. Get creative with ad formats
You have got the best copy, irresistible hooks, and images that will make those fleeting attention spans halt for a little bit more on your graphics. But wait, is that enough?
Feel free to experiment and run test versions with storyboard ads, in-feed natives, carousel ads wherein you can showcase a whole plethora of products and services in an organic way, and out-stream ads to reach a wider segment of the audience, etc.
So test, test, and test some more so that you have a deeper understanding of what's hot and what's not for your target audience.
4. Personalize instead of blasting out the same ad to all segments
While it may be tempting to run the same ad across different audience sections, you should always try and target at a more personalized level, because hyper-personalization is the flavor of the season!
When you run native ads that are localized geographically, rendered perfectly across the devices, and age group filtered, your ad stands a better chance of getting a better response.
5. Use a conversational tone while writing out good-quality content
Audiences like to read content that seems authentic and conversational instead of something that is stripped of every ounce of personality. When you marry a friendly, conversational tone with awesome, value-adding content, you can expect to realize good returns from your native ads.
Summary
In essence, creating value-adding, contextual ads that blend with the tone of the platform they are being advertised on can help brands build a stronger presence. Whether you are looking for seasoned professionals who know the ins and outs of effective native advertising, running local service ads, search ads, or anything PPC, Mavlers is the pit stop you need to make a halt at!