When was the last time you tuned into a YT video and came across an ad by Google emphasizing the importance of listing your business on the Google Ad Space? Maybe not too long ago!
Whether you are into a B2C or a D2C sphere selling curtains, dog toys, or even pickles, the idea is to show your ads to interested buyers exactly when they search for solutions or need them, which is exactly what Google Ads helps you with.
Let's crunch some number cookies from the U.S. Google Economic Impact Report;
USD 701 billion of economic activity realized by Google Search, Google Play, Google Cloud, YouTube, and Google advertising tools for a repertoire of American businesses, nonprofits, publishers, creators, and developers.
18+ million American businesses have benefited from Google's free tools to receive phone calls, bookings, reviews, requests for directions, and other direct connections to their customers.
$4.75 million of free advertising was dished out to Alabama nonprofits through the Google Ad Grants program.
Now, those are some awe-evoking stats that have egged us on to lay out our figurative tarot decks on the table and check in with experts for predicted trends in the current year and the years to come.
Trend 1: Expanded Text Ads (ETAs) Are Nearing Their End
Let's begin with understanding what ETAs or Expanded Text Ads are. Introduced by Google in 2016, in place of standard text ads, Expanded text ads are a way of advertising on the Internet. When you search for something on Google or Bing, you might see some ads at the top or bottom of the page. These ads are called search ads and are related to what you seek.
Expanded text ads are search ads that let you write more words and show more information about your product or service. You can write up to three titles, two descriptions, and a web address for your ad. One can add additional features to your ad, like a phone number, a location, or a rating.
Expanded text ads are good for advertisers because they can attract more people to click on their ads and buy their products or services. They are also good for users because they can see more details about what the advertisers offer and decide if they are interested.
However, as the wheels of time turn, ETAs will perhaps become obsolete and most likely be replaced by RSAs or Responsive Search Ads.
Microsoft followed Google's lead and extended the deadline, "Now, starting on February 1, 2023, RSAs will be the only search ad type that can be created or edited in standard search campaigns. With the focus of this migration being to help you efficiently drive a stronger return on investment (ROI), Expanded Text Ads will continue serving along with RSAs, but we'll no longer support the ability to create new or edit existing Expanded Text Ads moving forward. This is an extension from the previously planned August 29, 2022 deadline."
RSAs are a type of online advertisement that can change depending on what the user is searching for. They are like a puzzle that has many pieces, and each piece is a word or a phrase. They can be mixed and matched in different permutations & combinations to create different ads that fit the user's needs.
For example, if you are selling pizza, you can create an RSA with these pieces:
• Headlines: Best Pizza Delivery, Order Online Now, Free Delivery, Delicious Pizza, Wide Range of Toppings
• Descriptions: Enjoy pizza from the comfort of your home. Choose from our menu or create your own; no minimum order is required, and fast and friendly service, satisfaction guaranteed, or your money back
• Display URL: www.bestpizzadelivery.com
The RSA will use these pieces to create different ads for different users. For example, one user might see this ad:
![Best Pizza Delivery | Order Online Now | Free Delivery
Enjoy pizza from the comfort of your home. Choose from our menu or create your own. No minimum order is required.
www.bestpizzadelivery.com]
Another user might see this ad:
![Delicious Pizza | Wide Range of Toppings | Satisfaction Guaranteed
Choose from our wide range of toppings and sizes. Fast and friendly service. Satisfaction guaranteed or your money back.
www.bestpizzadelivery.com]
The RSA will try to show the best ad for each user based on their search terms, location, device, and other factors. The RSA will also learn from the user's behavior and feedback to improve the ad performance over time.
They can improve ROIs by making your ads more relevant and appealing to your customers. They can also save you time and effort by creating and testing thousands of ad variations for you. RSAs can also drive an increase in clicks or conversions. However, you must still follow some best practices to ensure your RSAs are effective and optimized.
Some of these best practices are:
• Use at least ten headlines and three descriptions for each RSA.
• Include keywords and benefits in your headlines and descriptions.
• Avoid repeating the same information in different headlines and descriptions.
• Use pinning only when necessary to control which headlines and descriptions appear in specific positions.
• Monitor your ad strength score and asset performance report to see how well your RSAs are doing and what you can improve.
Trend 2: The Shift Towards Account Level Keyword Exclusions
The marked shift towards reduction of manual efforts is making its effect felt here as well. Instead of manually applying keyword exclusions to every campaign, marketers will now have the option to deploy the power of account level negative keywords.
The pathway to be followed for locating the same is ~ "Tools & Settings" – > "Content Suitability"
Here one can add the list of upto a thousand keywords that you'd like to exclude and this setting will be applicable across campaigns.
Trend 3: Witness Growth In Sales With The Advent of More Visual Search Ads

Search Ads for Vacation Rental feeds are set to become all the more visual with rich content such as, ratings, prices, titles, & other metadata. The Beta version will be available in select countries to customers who have integrated VR listings in their Hotel feeds.
Trend 4: Say hello to Hotel Feeds in Search Ads!
A new Asset in Search Text ads, it serves more visual-forward formats for things-to-do queries such as Hotels in LA on smartphone devices in specific countries.
Customers who have Hotel Feeds can avail of this beta Asset.
For advertisers, this spells greater returns by displaying rich content to enable users make better decisions by comparing the listings on offer.
Trend 5: Realize Better ROIs With Campaign-level Broad Match and Brand Control
If as an advertiser, you want to reach more people with your ads, you can deploy the new broad match option in your campaign settings. This option lets you use Brand Control. Brand Control means that your ads will only show up for searches that include your brand name. This way, you can avoid competing with other advertisers who might use your brand name in their ads.
To use Brand Control, you need to use broad match for your whole campaign. This will make sure that your keywords are set up correctly and that your ads perform well.
Trend 6: Sparkling New Feed Translator Specifically Designed For Shopping Products
B2C and ecommerce brands get ready to delve deeper and reach prospective customers in new markets with new languages and unveil untapped buying opportunities in existing markets with additional languages.
This next generation Feed Translator succeeds the standard machine translation tools (e.g., Google Translate) with finesse as it incorporates the power of the first-ever shopping specific machine translation model.
Interestingly, this asset is available for customers worldwide across all retail categories and verticals.
Trend 7: Drive Omnichannel Creatives With Local offers on Product Feeds in VAC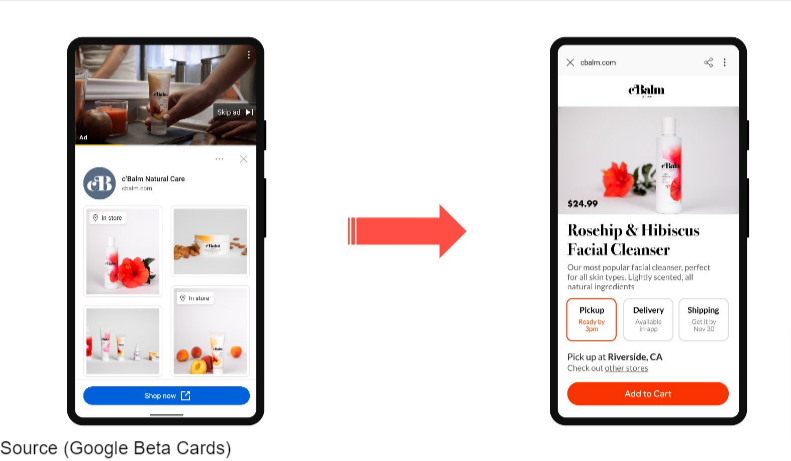 With Local Offers for Product Feeds on video action campaigns, you can show your customers both online and in-store deals for your products. This way, you can use video ads to reach more people who want to shop online or visit your physical store. Local Offers for Product Feeds is a feature that makes your video ads more versatile and powerful.
The target audience for this is retailers who own a brick and mortar store in addition to a web shop and those that have a Google Merchant Center feed.
Trend 8: The Option To Pick Up Later For Shopping Ads and Local Inventory Ads
With the Pickup Later option, you can shop online for products that are not currently in stock at your local store and reserve them for later. When you see a Pickup Later ad, it will tell you when your products will be ready for pickup.
Now seriously, how cool is that?!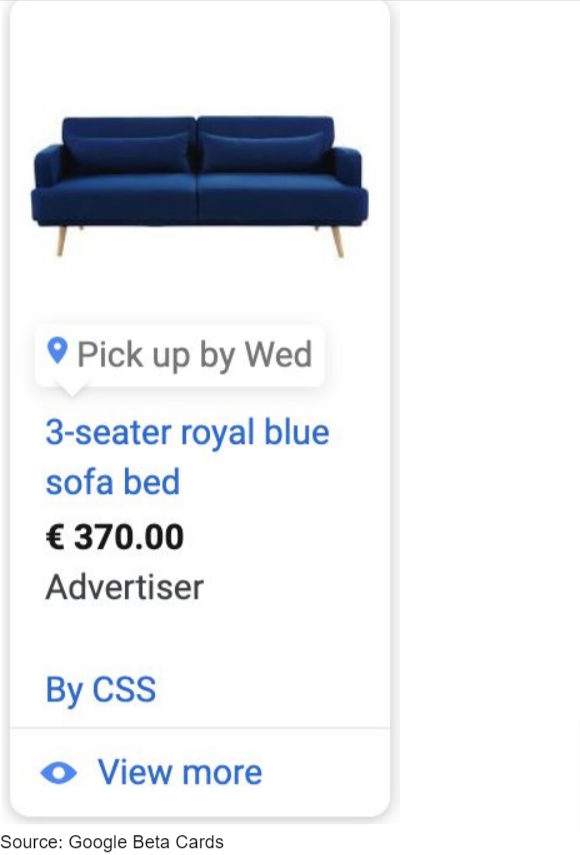 Trend 9: Redefine Prospecting & Remarketing With New Customer Acquisition goal in Video Action Campaigns
You can use the New Customer Acquisition goal in your Google Ads campaigns to get more new customers for your business. This goal lets you tell Google what kind of customers you want to attract and how much you are willing to pay for them. Google will then use this information to optimize your campaign and show your ads to the right people.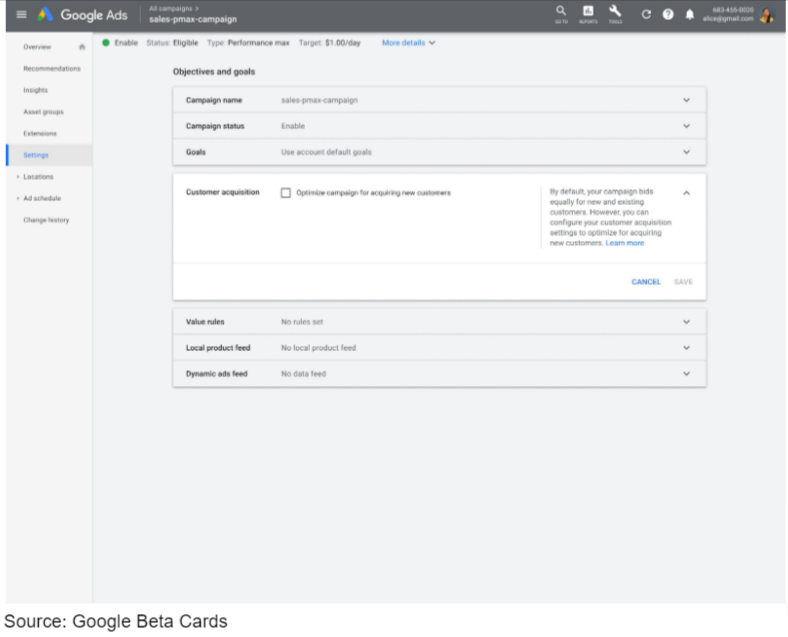 If you want to grow your business and get more new customers online, you can use this goal. It helps you sell your products or services or get more leads by showing your ads to people likely to buy from you or sign up for your offer.
Trend 10: Welcome Better Offline Sales With Local Inventory Ads through Autofeed
Autofeed is a feature that lets you create local offers for your products without making an inventory feed for Local Inventory Ads. It works by scanning your website and finding relevant information about your products, such as the name, price, and availability. This way, you can save time and effort and start showing your ads to people looking for your products nearby.
There are two ways that Autofeed can scan your website: using a pixel or using a crawler. A pixel is a small piece of code that you add to your website pages. It sends the product information to Google when someone visits your website. A crawler is a program that automatically visits your website and collects product information.
Summary
Phew! Now that's a whole stack of valuable trends and predictions that are all set to make their presence felt in the world of Google Ads and for the best we hope (keeping our fingers crossed!)
If you are an ecommerce biz owner looking out for awesome, reliable and affordable ecommerce SEO services, or Amazon PPC services, team Mavlers is forever at your service! Hit us up now! 🙂