In the early days of online advertising, managing pay-per-click (PPC) campaigns was a time-consuming, manual process. Marketers had to manually decide about keyword bidding, ad copy, and performance tracking- the process lacked scalability and efficiency.
If you're still following this routine in 2023, you are missing out on a lot because your focus isn't entirely directed at growing your business but running your campaigns.
Successful digital advertising efforts in today's fast-paced digital environment require staying one step ahead of the competition. Ad agencies' management of Pay-Per-Click (PPC) initiatives, for example, has been revolutionized by automation.
In 2023, thanks to artificial intelligence, these automated tools have advanced to the next level. Now, they provide a significant competitive advantage to advertisers and aid in the effective attainment of marketing objectives.
In this blog, we'll introduce readers to a wide range of PPC automation solutions and describe the features that make them so effective.
1. Adobe Advertising Cloud
Adobe is a well-known software company that specializes in digital media solutions, and its Adobe Advertising Cloud is an advertising platform. This cross-channel platform helps advertisers and marketers plan, buy, manage, measure, analyze, and optimize their advertising campaigns.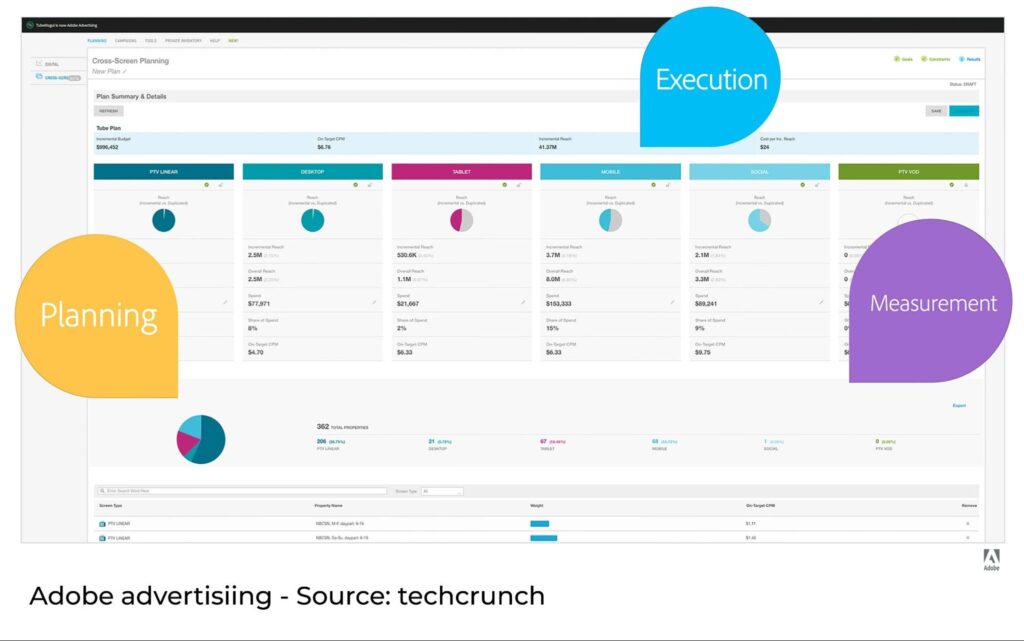 Key Features
Effective campaign management with sophisticated bidding algorithms and dynamic bid modifications.
Management of advertising campaigns across multiple channels.
Compatible with Adobe's other tools for integrated marketing campaigns.
All-inclusive reporting and analytics for informed action.
Pricing Plans
Adobe Advertising Cloud pricing is available on request and can be adjusted to meet the needs of individual customers. Marketers may tailor the tool's features to their specific needs and spending constraints. The best thing is that you only pay for what you need.
2. SA360 (Search Ads 360) by Google Marketing Platform
SA360 uses Google's machine learning to automatically optimize keyword bids for maximum conversions and compliance with performance targets, including cost per acquisition (CPA) and return on ad spend (ROAS).
SA360 also performs exceptionally well in cross-channel campaign management, allowing advertisers to centralize their search engine marketing efforts across several platforms.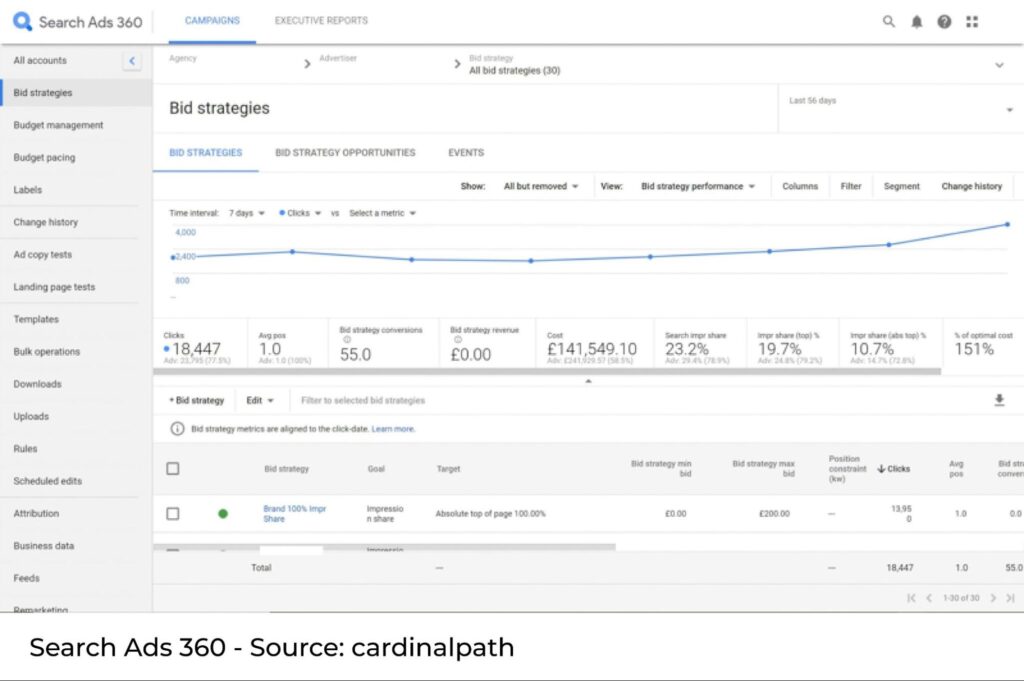 Key Features
Google's machine intelligence powers cutting-edge bidding algorithms.
Management of campaigns across many channels has been streamlined for maximum efficacy.
Complete campaign understanding with detailed reporting and attribution models.
Cohesive marketing tactics enabled by integrating Google Marketing Platform tools.
Pricing Plans
SA360's pricing is not disclosed because it is tailored to each client's unique requirements and advertising budget. You will have to contact the designated team to learn about the subscription plans.
3. Facebook Ads Manager
Marketers may now target very narrow subsets of consumers based on a wide variety of factors, including demographics, hobbies, behaviors, and even online activity. Ads can be tailored to each individual user, improving their chances of being clicked on and converted.
Facebook has recently merged its Ads Manager and Power Editor into one platform to make it easy for marketers to create and monitor ads in real-time.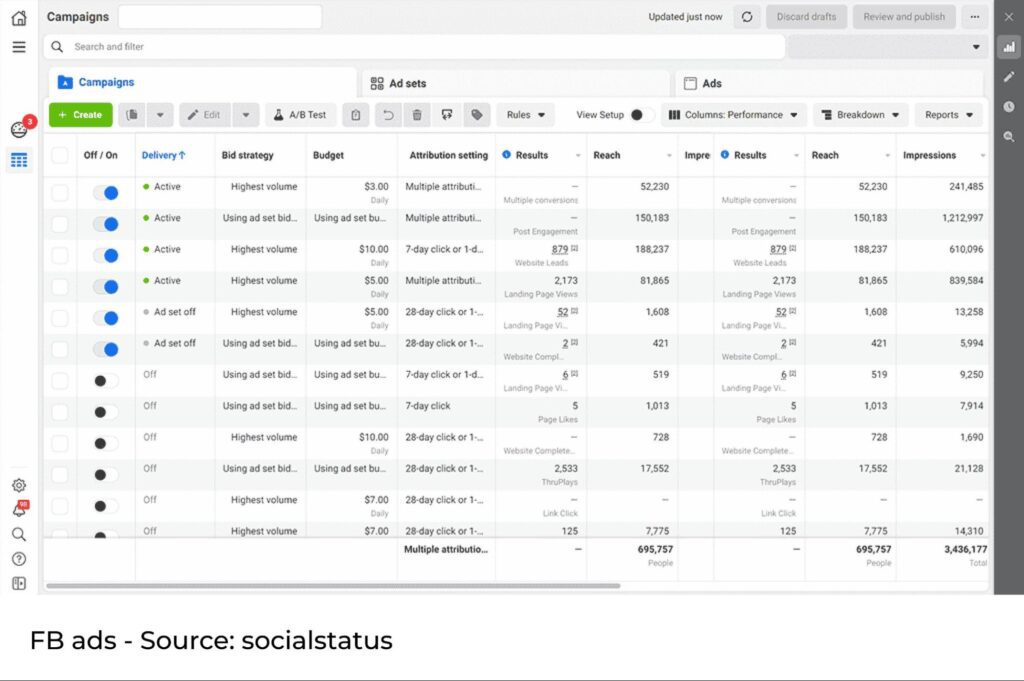 Key Features
Ads can be tailored to each individual user with pinpoint accuracy.
Maximizing the efficacy of advertising through automated optimization of delivery.
In-depth analytics and reporting for informed choice-making.
Modular and adaptable pricing structures.
Pricing Plans
Facebook Ads Manager has variable pricing based on the advertising objectives of each business. Budgets can be set on a daily or lifetime basis and can be adjusted based on how well an ad campaign is doing. Because of the flexibility of the platform's entry price point, it may be used by companies of any size.
4. Adroll
Adroll facilitates the targeting of website visitors who did not complete a purchase during a previous visit, among many other things. Adroll re-engages these prospects by sending them bespoke ads that remind them of your brand and encourage them to come back and make a purchase.
Adroll uses lookalike modeling to find new users that are like your present customers in terms of interests and behavior. This helps you target people who are more likely to become paying customers.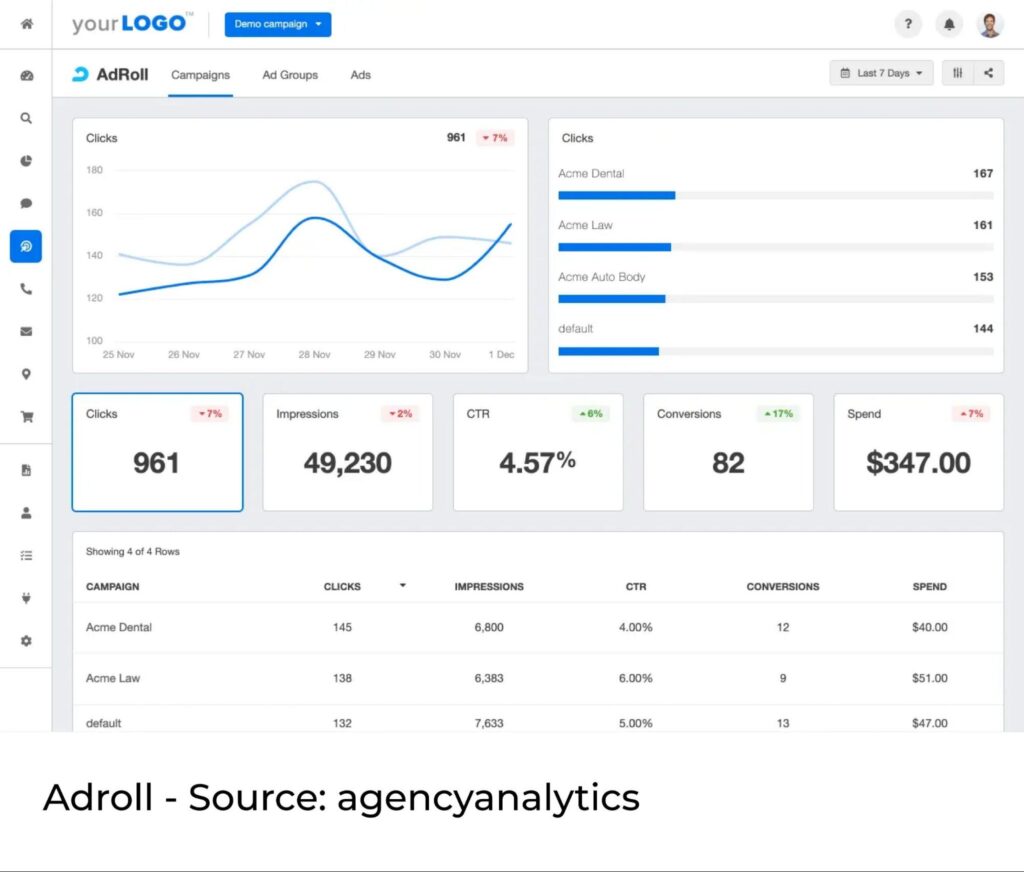 Key Features
Robust retargeting tools for re-engaging past visitors and possible new ones.
Modeling new audiences on the basis of their similarities to current ones (lookalikes).
Easily generate fresh and relevant ads with dynamic ad generation.
Plans and payments can be tailored to meet your needs.
Pricing Plans
Adroll's pricing plans, too, are customizable. However, the starting plan that offers Marketing & Ads starts at $36/month. For a more advanced package, you will have to contact Adroll's team to get a quote basis your needs and requirements.
5. Marin Software
Marin Software provides a unified interface for managing advertising campaigns across several channels, such as Google Ads, Bing Ads, Facebook Ads, and more. With this one picture of campaign success and return on investment, managing campaigns is a breeze.
Marketers can make informed decisions and fine-tune their campaigns with the help of detailed information on campaign performance, audience analytics, and conversion tracking.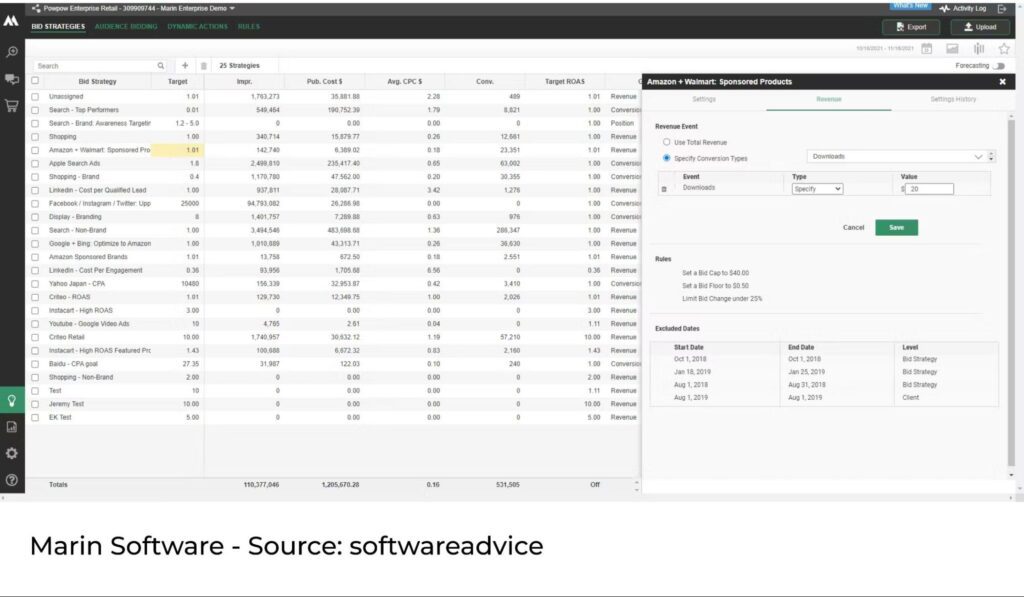 Key Features
Management of campaigns across many channels for maximum effectiveness.
Optimal resource allocation through automated bidding and optimization.
In-depth analytics and reporting for informed choice-making.
Optimal for organizations of every size and digital advertising firms.
Pricing Plans
Pricing for Marin Software is flexible and may be adjusted to meet the needs of any business and any advertising budget. Subscription pricing is the norm on the platform, with elements like ad budget and service requirements influencing the final cost. To learn more about price plans and available customizations for advertising, get in touch with Marin Software.
6. WordStream
WordStream, founded in 2007 by Larry Kim, is a powerful digital advertising platform that helps businesses optimize their ad campaigns. The purpose is to serve small and medium-sized businesses with user-friendly and effective solutions to manage cross-channel ads from one platform.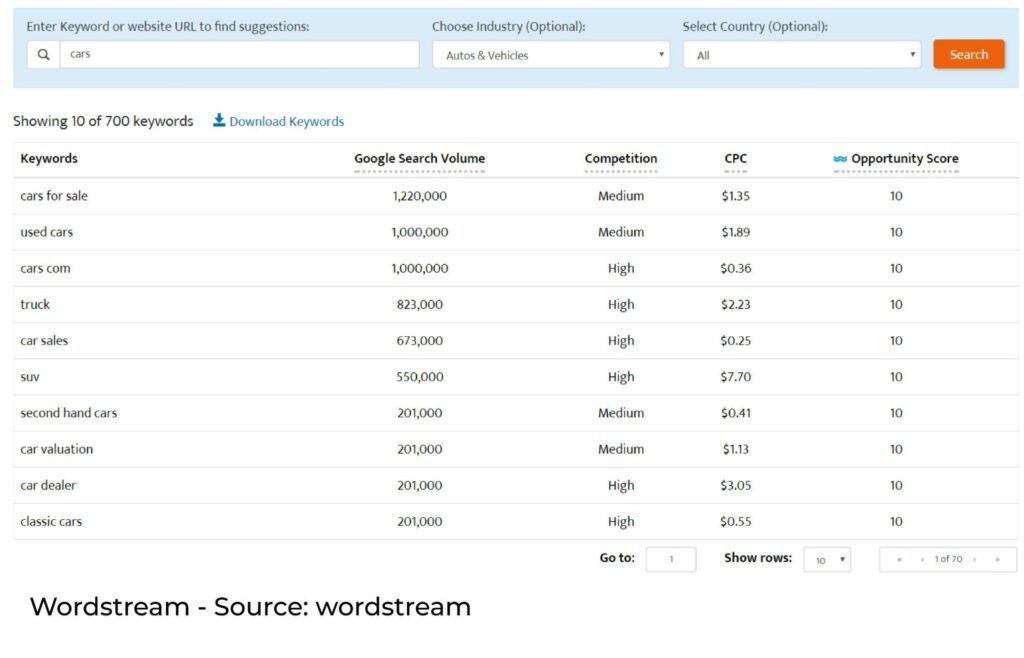 Key Features
The intuitive design is great for marketers of all skill levels.
Effective keyword research and management with cutting-edge applications.
Automated, data-driven bidding is made possible by the Smart Bidding function.
Flexible reporting options for taking action on findings.
Pricing Plans
WordStream's pricing options are adaptable to the client's advertising budget and desired degree of service. Depending on a company's specific requirements, the platform may offer a free, basic, or premium subscription.
7. Acquisio
Acquisio is a digital advertising platform that specializes in providing performance media agencies and marketers with advanced tools to optimize their ad campaigns online.
It also offers a comprehensive suite of tools for managing various types of digital advertising campaigns, including pay-per-click (PPC), search engine marketing (SEM), display advertising, and social media ads.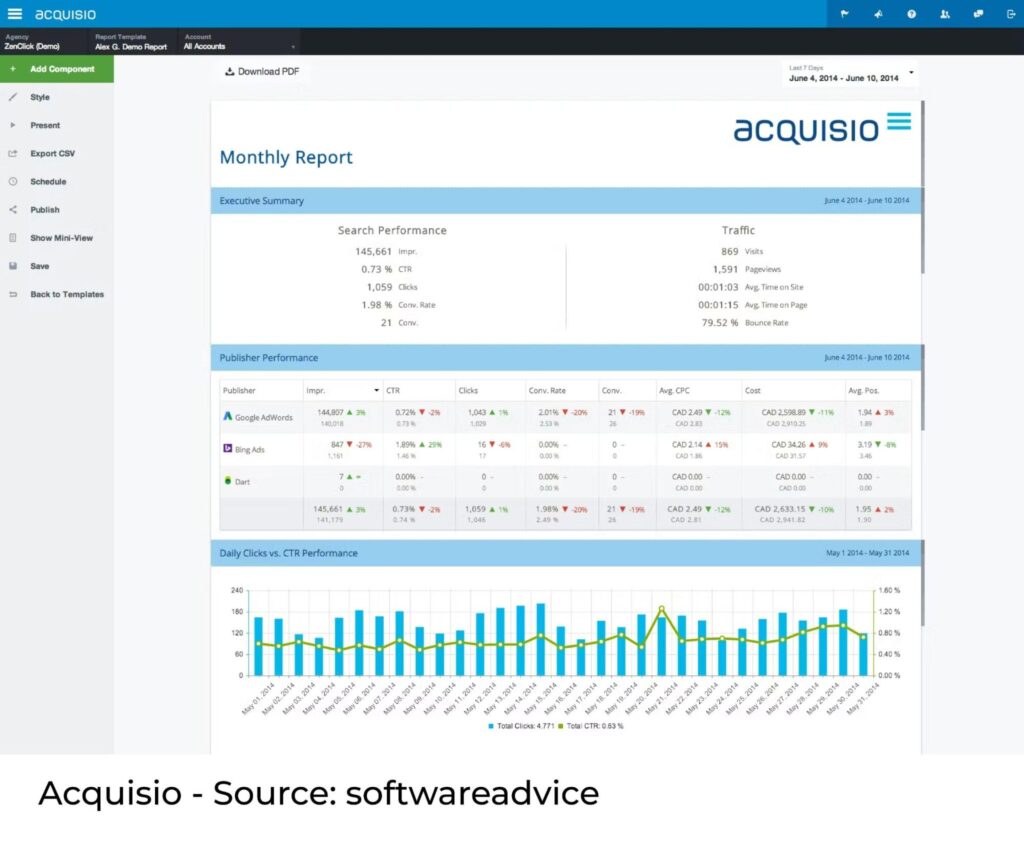 Key Features
Ad performance optimization through automated bidding and budgeting using AI.
Management of campaigns across many channels for maximum effectiveness.
Reporting and analytics tools for making informed choices.
Optimal for organizations of every size and digital advertising firms.
Pricing Plans
Acquisio's offers a customized plan according to your needs and requirements. You will also get a free trial to test its virtue.
8. Madgicx
Madgicx uses machine learning algorithms to segment customers and deliver personalized adverts to the most interested parties. It gained recognition for its data-driven approach and advanced AI techniques.
Through testing numerous permutations of content pieces like photos and text, Madgicx's Creative Studio is able to determine which ads perform best.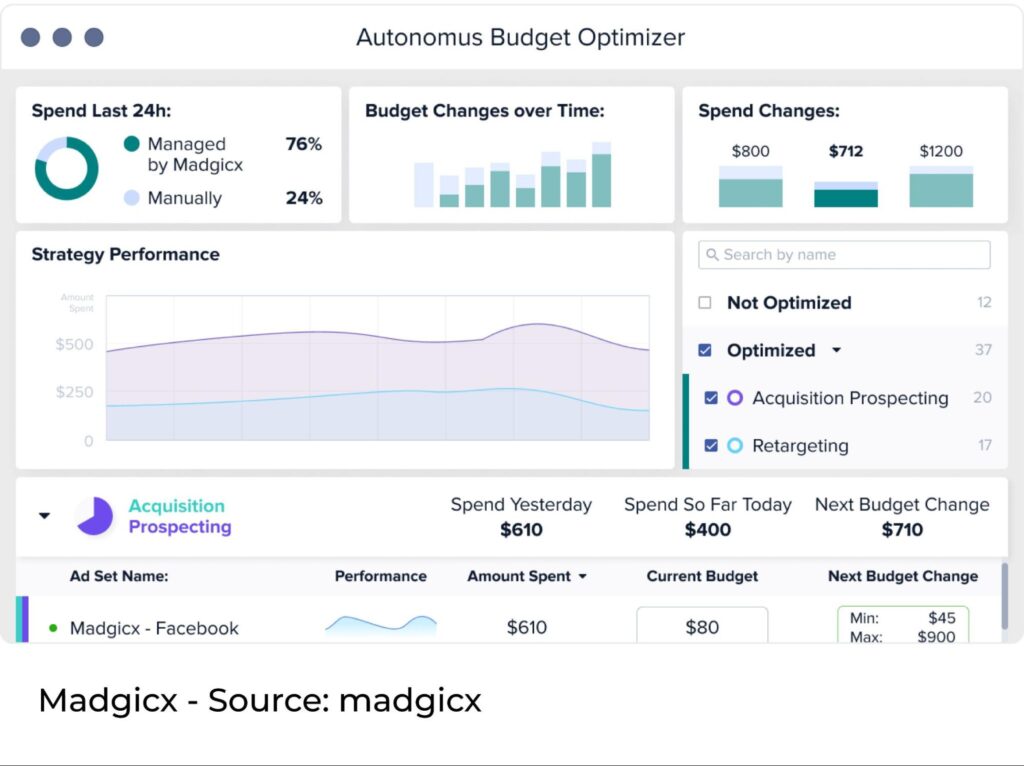 Key Features
Audience targeting enabled by AI is for efficient ad distribution and customization.
Ads that generate results can now be made and optimized automatically.
Allocating resources with the help of AI to maximize profits and savings.
Optimal for corporations of all sizes and advertising firms.
Pricing Plans and Options
The subscription plan for Madgicx starts at $479/month. But if billed annually, you can save 20% and bring down the monthly subscription price to $383/month.
9. Optmyzr
Optmyzr is known for its user-friendly interface and streamlined workflow. Its dashboard provides a centralized view of all advertising accounts, allowing users to manage multiple campaigns from one place efficiently.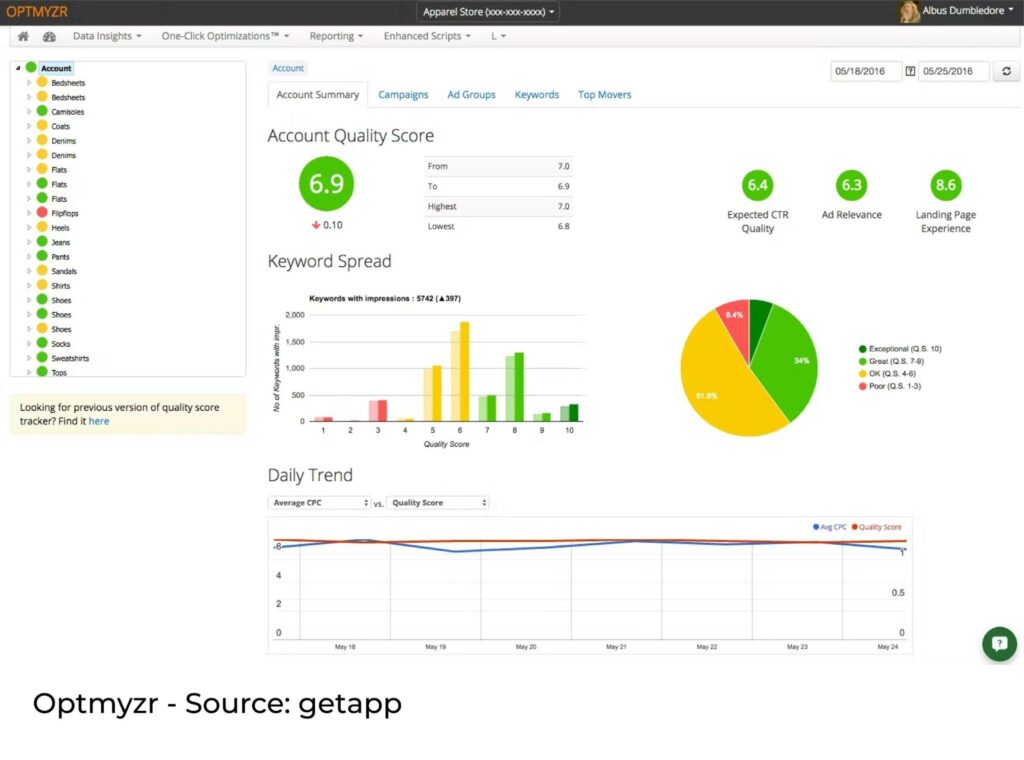 Key Features
Superior data analysis for in-depth campaign understanding.
Ad performance is maximized by automated bidding and budgeting.
Effortless automation options that save time and effort throughout campaigns.
Optimal for corporations of all sizes and advertising firms.
Pricing Plans
The subscription plan for Optmyzr starts at $249/month. But if billed annually, you get two free months of subscription. This implies that the monthly subscription price comes down to $208/month.
10. Adalysis
Ad testing and optimization functions are prominent inside Adalysis. The platform allows marketers to conduct A/B tests to determine which ad variants perform best. Marketers can use this real-time information to their advantage by adjusting their tactics as they go.
Marketers can optimize their ad campaigns through informed analytics like clicks, impressions, conversions, and other key metrics.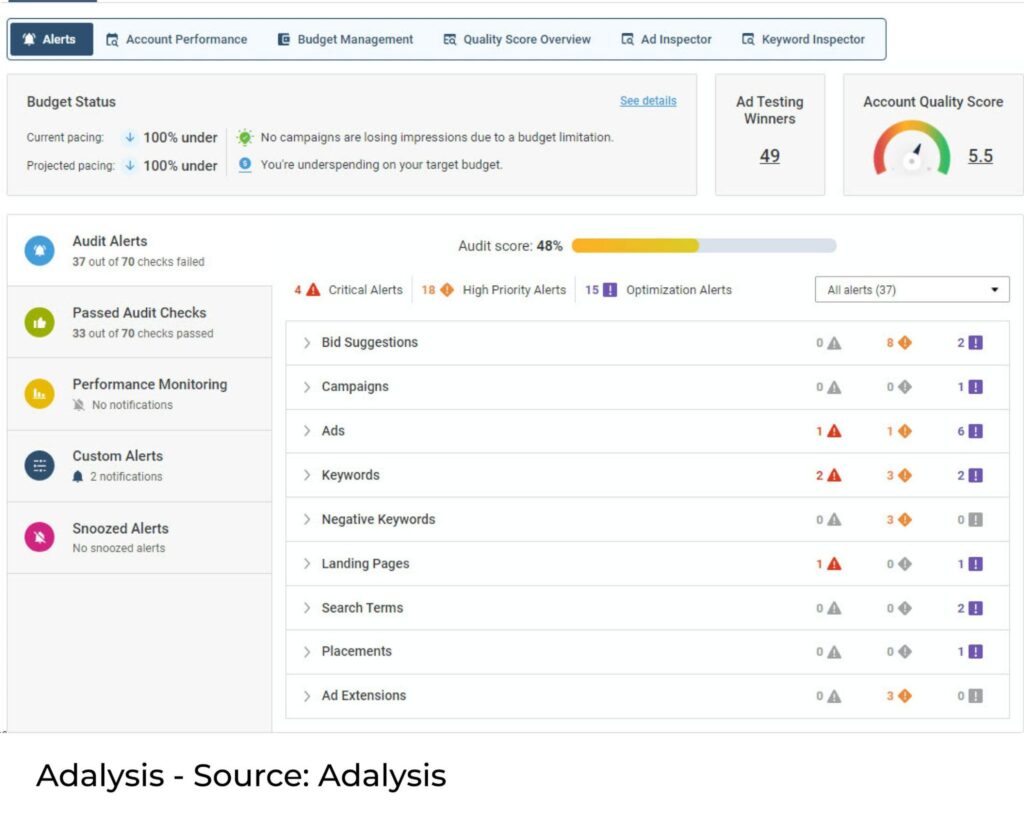 Key Features
Increasing the effectiveness of advertisements through testing and tweaking.
Comprehensive reporting and analytics to facilitate deliberation based on evidence.
Campaign optimization and account health monitoring are now fully automated.
Optimal for corporations of all sizes and advertising firms.
Pricing Plans
Adalysis offers to start monthly plans from $99 with a monthly spend of up to $50,000. And it goes on to $499 for a monthly spend of up to $500,000. And beyond that, you can get a customized plan.
Key Takeaways
Each automation tool comes with its own repertoire of unique features. But your focus should be on your requirements. Note them down, and then pick the tools that you need. Then read online reviews and feedback in parallel to their functionalities. And lastly, keeping your budget constraints in mind, choose the PPC automation tool that best fits your goals and objectives.